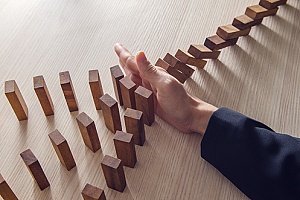 Risk management is the important process of identifying and analyzing individual risk events so that they can be managed proactively. Organizations face a wide range of threats, ranging from legal liabilities to unpredictable finances. By having a risk management plan in place, you can enhance your organization's processes for recognizing and controlling threats to digital assets, such as proprietary corporate data and other IT-related products and information. Businesses in all industries face these types of risks which can cause significant harm to your brand and finances. However, risk management allows organizations to better prepare for the unexpected which can help minimize risks and protect your business from certain IT security and data threats.
Importance of Risk Management
Implementing a risk management plan allows organizations to consider potential risks before they occur. Having a solid plan in place can help companies establish effective procedures to reduce or avoid certain threats, while also minimizing the impact of risks that may get through the cracks. By having the ability to understand what potential risks your business faces and how to control these threats, organizations become better equipped to reach their goals.
Risk management also offers other key benefits, including the following:
Maintain a safe work environment for employees and customers.
Stabilize business operations and reduce legal liability.
Protect your organization from events that could negatively impact your business.
Prevent potential harm to your people and assets.
The Risk Management Process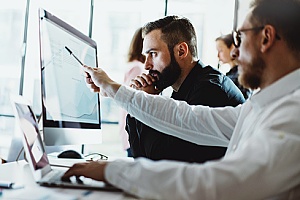 The risk management process is fairly straightforward. It is important to fully understand and perform each step to ensure that you gain greater control over the potential threats faced by your organization. The steps in the process include:
Define the context. Take time to consider the unique circumstances that will influence the process. Develop criteria which can then be used to evaluate your level of risk.
Identify potential risks. The next step in the process involves identifying potential risks that your company faces. Consider how these risks could negatively influence a project or your business as a whole.
Perform a risk analysis. Once you have identified potential risks, you will need to determine the odds of these risks occurring. Also think about the consequences of these risks if they were to occur.
Undergo a risk assessment and evaluation. This step allows organizations to further evaluate the likelihood of a risk occurring. With this information, you can make informed decisions on whether the risks are acceptable or not.
Alleviate high-ranked risks. Ideally, you want to prioritize the highest-ranking risks that your business faces. Through risk mitigation tactics, you can gain more control over threats that plague your company.
Continue to monitor risks. As part of the process, it is important for organizations to continually monitor existing risks and track new risks.
Get others involved. Communicate with internal and external shareholders during each step of the process. Be open to criticism and ideas to ensure that your plan is the best it can be.
Approaches to Risk Management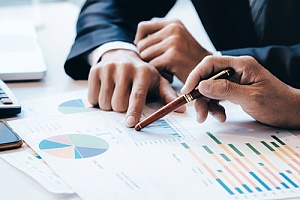 After identifying your company's specific risks, there are a number of effective strategies that can be used in the risk management process. Risk avoidance refers to the complete elimination of certain risks. This strategy involves deflecting as many threats as possible to prevent costly business disruptions.
Risk Reduction
As not all risks can be completely eliminated, many businesses resort to risk reduction. This approach allows companies to reduce the impact of certain risks by adjusting project aspects or company processes.
Risk Sharing
Risk sharing is another approach that involves sharing part of a risk with another party. This usually consists of distributing risk among the participants of a project or among business departments. Risks may also be shared with third parties such as business partners or vendors.
Risk Retention
If an organization decides that a certain risk is worth the possible outcome, then the risk may be retained. This risk management approach is typically only used when the profit of a project is believed to be greater than the cost of the potential risk.
Limitations of Risk Management
Risk management can be highly valuable in identifying and controlling risks before they occur. However, these approaches do have their limitations. Many businesses seek risk management strategies as a way to save time and money. However, it requires extensive data collection which can be expensive to acquire. In addition, the results are not always reliable. If your team lacks analysis expertise or have limited time to put towards risk management, the outcome can often be unsatisfactory.
Speak to a Cyber Security Solutions Firm
Meeting risk management standards can be challenging, especially when your team does not have the knowledge or time needed to devote to it. To learn more about risk management or to schedule a consultation with a cyber security solutions firm that can help your organization better manage risks, contact Vaultes.