Vaultes performs security audits for organizations to ensure their systems are in compliance with multiple laws and government programs. Our Information Assurance Division works to address any components of your systems that may not be in compliance, as well as develop a course of action to improve its security.
Featured Compliance Audits
As cybercriminals constantly find new ways to breach data, our team adapts our cybersecurity techniques to stay in compliance with government programs. We perform compliance audits for the following programs:
CMMC
Effective in 2020, the new CMMC program will be established to reduce the amount of defense-based cyber threats. Our cybersecurity professionals can review the new policy with your organization, as well as ensure your systems are CMMC compliant.
FedRAMP
We understand the security risks that are involved with cloud computing, and will perform an audit of your systems. Our team will then identify any potential FedRAMP compliance violations for cloud service providers and modify your systems to enhance their threat protection. We will also run a series of tests upon completion of the audit to ensure the cloud-based data is protected.
View FedRAMP Compliance Audits
FISMA / 800-53
Our team will devise a cybersecurity plan for your organization to protect your clients and their information from data breaches. After the plan is established, we will help implement the program to ensure you remain within FISMA and NIST 800-53 compliance. Additionally, we will continue to provide post-audit support until your organization is free of potential risks
View FISMA / 800-53 Compliance Audits
NIST 800-171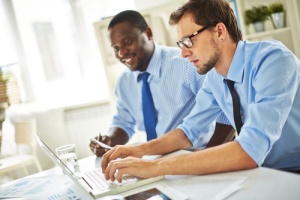 An extension of the basic NIST codes, 800-171 regulates the distribution of unclassified government information. Our team will ensure your organization is properly sending and/or receiving this information, as well as taking preventative measures. We will also audit your detection and response program in the event of a breach.
View NIST 800-171 Compliance Audits
Learn More About Compliance Audits
Unsure of which compliance audit your organization may need? The experienced cyber security consultants at Vaultes are ready to answer any questions you may have. Obtain compliance for your organization by contacting us online or giving us a call at 202.816.6658 today.