Assessing cyber security processes, identifying vulnerabilities & weaknesses within IT infrastructures and mitigating risks has never been a higher priority for organizations than it is now. Cyberattacks and data breaches have become increasingly more prevalent over the years, and these attacks are directly correlated with the overall success of an organization. However, most organizations find that they are unable to dedicate the time or manpower internally, to properly perform these functions.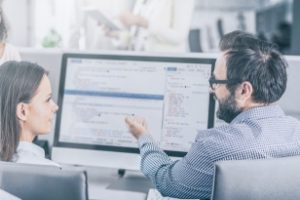 Through cyber security consulting services, organizations are able to focus on the operations of their business, while cyber security consultants like ours, can focus on creating strategies, identifying vulnerabilities and mitigating risks to defend against potential cyber security attacks. Our cyber security consulting, training and compliance auditing services prepare and defend organizations against external threats, while ensuring processes and tools align with business goals and objectives.
Our Cyber Security Consulting & Training Services
Cyber security consulting is much more than providing organizations with advice and suggestions. Our cyber security consultants are able to identify vulnerabilities, ensure government framework compliance, assess process maturity levels, provide training to IT staff and more.
Among the litany of benefits that come from utilizing cyber security consulting services, here are our featured cyber security consulting services:
Cyber Security Architecture Consulting
A strong enterprise security architecture framework is vital to the overall success of an organization's cyber security defense and preparedness. Our consultants are able to quickly identify security gaps and vulnerabilities, and make adjustments to defend against potential cyber security threats.
Cyber Security Awareness Consulting
Before an organization can make steps towards defending against cyber security attacks, individuals within the organization need to first learn how to identify risks and threats. Through cyber security awareness consulting, employees are able to understand how to identify risks, adjust and enhance security processes and how to create and implement a response plan in the event of an attack.
Cyber Security Compliance Consulting
As cyber security attacks have increased, so have the compliance regulations set forth by the government to combat these threats. Our cyber security compliance consulting services ensure organizations are in complete compliance by implementing programs and processes to bridge potential compliance gaps.
View Cyber Security Compliance
Social Engineering Consulting
Cyber attackers have become increasingly better at manipulating people online in order to obtain confidential information and data. Social engineering consulting services provide organizations the knowledge and resources needed to identify and prevent potential data breaches.
View Social Engineering Consulting
Cyber Security Monitoring
Cyber attackers don't have 9-5 jobs, which means organizations are susceptible to security threats and attacks 24/7. With our cyber security monitoring services, we provide around the clock real-time cyber threat monitoring to detect threats and reduce incident response times in the event of an attack.
View Cyber Security Monitoring
Cyber Security Training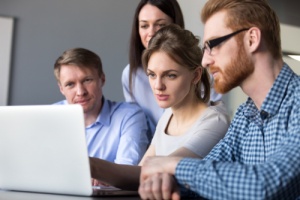 When it comes to security, the more employees within an organization are aware of risks and are able to take action during an attack, the better. Our cyber security training services reduce potential bottlenecks by educating IT staff members on risk identification, process enhancement and cyber attack response plan generation and implementation.
Vulnerability Management
Vulnerabilities within IT infrastructures are inevitable. Vulnerability management services are able to mitigate these vulnerabilities by prioritizing and mapping out optimal processes.
Zero Trust Architecture
The "Zero Trust" model was designed to assist organizations in the reduction of data breaches by always authenticating access and never trusting any web user. Vaultes works with companies to adopt a Zero Trust architecture to ensure no unexpected cyberattacks will occur.
Learn More From Our Cyber Security Consultants
Not sure what your organization may need? No problem! Our experienced cyber security consultants are ready to answer any questions you may have. Start enhancing your organization's cyber security efforts today by contacting us online or giving us a call at 202.816.6658.