All organizations face a certain level of IT threats, especially in this day and age where most business processes have been digitalized. To minimize and eliminate certain risks, modern companies turn to cyber security practices. What is cyber security, exactly?
Also known as information technology security, cyber security refers to the protection of computer systems from damage or theft of electronic data, software, and hardware. Cyber security efforts can help prevent disruptions to business services and reduce the impact of digital attacks.
Common Types Of Cyber Threats
Businesses face certain types of security risks that threaten their brand and finances. Social engineering attacks are a common cyber threat that can involve a range of malicious activities accomplished via human interactions. This process consists of the psychological manipulation of people to get them to perform certain actions or give away privileged information.
Advanced Persistent Threats
Advanced persistent threats, or APTs, are another type of cyber threat that businesses face. This type of attack occurs when an unauthorized user infiltrates a private network undetected and remains in the network for an extended period of time. The third most common type of cyber threat are malware attacks. Malware software is specially designed to allow cyber thieves to gain access or damage a computer system without the direct knowledge of the owner.
While cyber security threats can attack all types of devices and networks, most of these cyber attacks fall into three main categories: attacks on confidentiality, integrity, or availability. Hackers can steal personal information, such as credit card or bank account information, or release sensitive information for the purpose of exposing data. This can cause the public to lose trust in a company. Cyber criminals can also block users from being able to access their own data until they pay a ransom or fee.
Phishing Attacks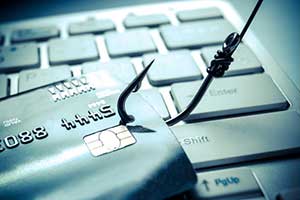 Cyber attacks can present themselves in a wide variety of ways. Oftentimes, businesses do not even know that their system or network has been infiltrated until it is too late. Phishing attacks are one of the most common forms of social engineering which can affect any business that uses email. APTs can result in the theft of high-value data, such as information in sectors like manufacturing, national defense, and the finance industry. Malware can also come in several forms, such as keyloggers, viruses, spyware, and worms.
How To Protect Against Cyber Threats
While businesses will always face some level of cyber security risk, there are a number of ways organizations can better protect their reputation and finances. Many cyber security practices are simple and require a few basic changes to business processes and risk management strategies. Here are just a few ways that your business can improve your cyber safety.
Use caution when opening emails from unknown senders. Never open email attachments from unknown sources or click on links in emails from unknown sources. Email scams are very common and it takes just one wrong click and your private information is stolen.
Only submit personal information into trusted websites. When entering important data like credit card numbers or social security numbers into an online website, be sure that the site you are using is a trusted source. One way to determine if a site is secure is if it includes "https://" at the start of the URL.
Always update your computer systems and devices to the most recent version. Software updates can contain important patches that are designed to fix certain security flaws. By updating your software on a regular basis, you can help bridge these security gaps before a cybercriminal finds them first.
Regularly back up important business files to prevent cyber security attacks. If you are forced to erase your computer system because of a cyber-attack, your files will be backed up in a safe place where they can be easily accessed at any time.
Encrypt important backup data. It is not only enough to back up important data, but also to encrypt it. By encrypting important information, you can render the data useless if it happens to get in the wrong hands.
Invest in cyber security insurance. Another way that businesses help keep their private information safe is by investing in cyber security insurance. Cyber security insurance can help cover certain costs associated with cyber threats.
Speak To A Cyber Security Solutions Firm
Cyber security threats can pose real harm to your business, even forcing it to shut down in certain situations. To prevent or minimize these IT threats, it is important to work alongside an experienced cyber security solutions firm like Vaultes.
Vaultes Enterprise Solutions offers a number of IT risk assessment services designed to protect your business, such as cyber engineering, cyber security monitoring, and security architecture. For more information about cyber security or to inquire about IT risk assessment and cyber security monitoring services, contact the experts at Vaultes.